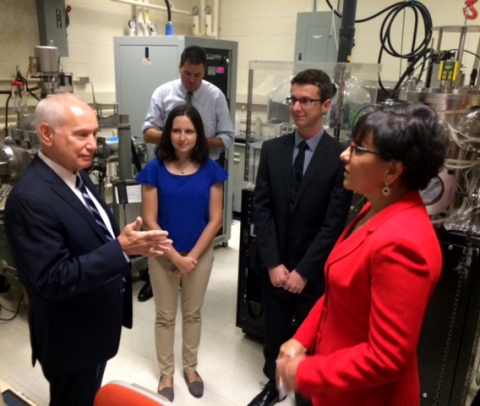 Secretary of Commerce Penny Pritzker traveled to the Massachusetts Institute of Technology on Friday to lay out America's "Path Forward" on innovation and meet directly with some of America's leading researchers and innovators.
Her day started out with a tour of the Research Laboratory of Electronics (RLE) – a storied interdepartmental research center at MIT. Counted among RLE's alumni are Robert Noyce, co-founder of Intel, and Amar Bose, who revolutionized the way we listen to music.
While at RLE, Secretary Pritzker got to work with next generation devices being designed and produced in RLE's fiber, thin film and photonics labs. Their work has many applications, producing fiber for clothes that could one day heat, cool, compute, and even monitor our health. They are also devising ways to use light in surgeries to cut skin without causing bleeding, and incorporating the science behind light into existing electronics to create smarter technologies such as collision avoidance systems in cars. She met with students and professors whose projects are already having an impact on communications, medicine, and the military.
After her tour, Secretary Pritzker held a roundtable with a group of senior MIT faculty, local business leaders, and government officials to talk about building innovation ecosystems.  She discussed the Department's Innovation Agenda and heard directly from some of the country's leading thinkers on innovation in a far-ranging conversation about what it takes to build regional innovation clusters, the challenges facing innovators today, and the how we might address the social disruptions that are a frequent byproduct of radical innovation.
Later in the morning, Secretary Pritzker addressed a group of MIT faculty, students and local business leaders on America's competitiveness in the 21st century and the vital importance of innovation to our country's long-term prosperity.
In describing America's path forward, Secretary Pritzker noted the critical contribution of technological and scientific innovation to U.S. economic growth and cited actions we must take to continue supporting growth:
Investing in our people, so we utilize 100 percent of our talent;
Investing in our infrastructure so we can move our products and ideas at the speed required in the 21st century; and 
Investing in innovation and entrepreneurship, so we can continue to lead the world.
Calling the Commerce Department "America's Innovation Agency," the Secretary outlined how the Department is working every day to help innovators and entrepreneurs bring their ideas from lab to market, access needed capital, and sell their products across the globe. She called for immigration reform to ensure that the top talent in America's educational system can continue to contribute to our innovation ecosystem. And she called for greater investment in research and innovation – while underscoring the harm that would come from a potential government shutdown over the budget.   
After her remarks, Secretary Pritzker participated in an armchair discussion with MIT President Rafael Reif about the future of our economy and how the federal government can support innovation.